At Birthday, Christmas or any other time, photo mugs can be great gifts. There's nothing like a coffee cup with a nice picture on it to commemorate a member of the family, a great vacation or a beloved family home …or anything else that can fit in front of a camera. Some simple steps will help anyone who wants to make photo mugs for gifts, employee events or any other uses.


Photos on Mugs – Make Photo Mugs
1) Select Photo mugs:  For the best photo mugs, think about how the color of the mug will handle the superimposed picture. You'll also want to look at the best and simplest ceramic mugs that will support image transfer to make the rest of the process easier.


2) Find your Photo or picture: In order to transfer an image onto photo mugs, you'll need a right-sized photo that you can print out. Sift through available pictures and find the ones that will help you fashion the best mugs.
* Get pictures in printable format. Depending on how the desired photos are stored, this may require scanning or converting pictures. In some cases, you'll need a scanner to get pictures into printable form. Other challenges can include changing a picture from one format to another, for instance, from a .bmp to a .jpg or other similar format.


3) Print photos on special paper: A specialized paper product allows for image transfer onto hard surfaces. Those who are experienced with these materials call them "transfer paper" or "decal paper."
4) Fix the image to the mug surface: Often, this includes applying moisture to the decal paper. The paper that you buy should have specific instructions on how to transfer the image from the paper to the surface of the photo mugs.
Right handed
5) Seal the image: One of the last steps for getting these gifts ready to go is to seal the image onto the mug, so that it will not wash off during cleaning. Two popular methods involve either heating the mug to seal the image, or using a clear resin to coat the mug and seal in the picture. Either way, you should have a mug that will stand the test of time.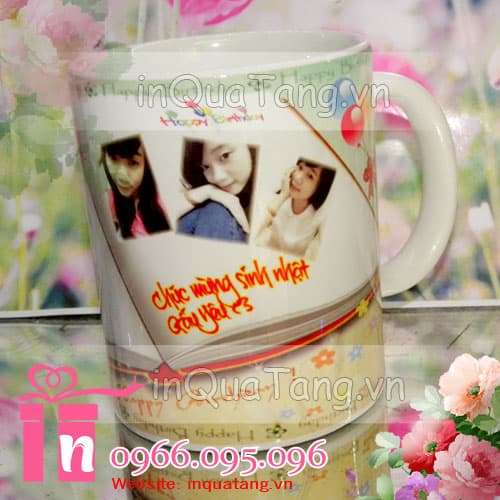 Left handed
Photo mugs or custom mugs are great gifts, and are for all occasions, Birthday gifts, Memorial gifts, Mothers Day, Fathers Day, Christmas gifts and personalized travel gifts in Vietnam, just to name a few! Not just fantastic novelty gifts, why not personalise mugs to promote your business or simply supply within the workplace? With no set up costs, no minimum order and competitive quotes on volumes of 20 or more our personalised custom photo mugs are great for the workplace.
Facebook mugs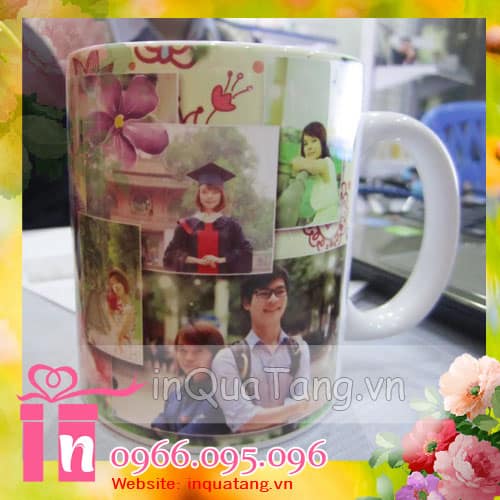 Your design will be printed on a white ceramic mug of 11oz capacity. The mug is 100% Dishwasher Safe.
Please be careful when entering your personalisation information as In Qua Tang .vn cannot be held responsible for spelling mistakes on personalised items.
Contact Us
PersonGifts – inquatang.vn is specialized in manufacturing gifts: Personalised Gifts, Corporate Gifts Company, Travel gifts… in Vietnam


Description: Sturdy white ceramic mug with large handle for easy drinking. 
Promotion Description: Enjoy your morning coffee in a mug with your favourite photo on it! Makes a fun gift for the home or office. Each mug is made from quality ceramic with a wide handle for easy drinking.
Colour Choice: White, Black, Blue, Pink…
Layout Choice: Right handed, Left handed, Full wrap.
(Note: the image faces the person holding the mug)
Care Instructions: Dishwasher and microwave safe
Material Type: Ceramic
Dimensions: Base Width 82mm, Mug Height 96mm
Weight: 370g (no packaging)
Packaging: White gift box
If you have a project you wish to discuss or have any other comments, please contact us
by calling on (+84)966 095 096 or
by writing an email to inquatang.vn@gmail.com
by sending your comments with the following form: "Lien he (Vietnamese)"
Shop In Qua Tang .vn
Hotline (24/7): (+84) 966 095 096
Email: inqtang.vn@gmail.com
Website: http://iqtg.com:8080/personalised-mugs